Pasko ng Komiks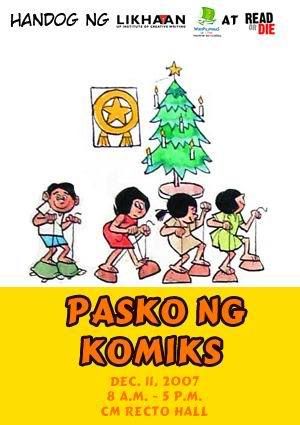 From the
READ OR DIE
blog:
Read Or Die, the UP Institute of Creative Writing and the UP College of Arts and Letters in partnership with Komikera and the New Worlds Alliance invite you to attend Pasko ng Komiks, a symposium on Filipino komiks. The event is the culminating activity of the 2007 College of Arts and Letters Week. The symposium will bring together komiks writers and artists from different groups and backgrounds along with respected critics.
The event is sponsored by the UP College of Arts and Letters, the National Book Development Board and WikiPilipinas.
There will also be an exhibit of komiks prints from select collections and artists in FC Gallery 2 as well as an open cosplay event featuring characters from comics–whether Filipino komiks, Western comics and graphic novels, or manga and manwha. We would like to invite everyone to participate in the cosplay.
The exhibit will be curated by Ms. Teta Tulay of the innovative female artists collective Komikera. For inquiries about donating prints or your own for exhibit, please contact her at komikera@gmail.com.
If you are a komiks publisher or artist and would like to sell your work during the symposium, please see our selling guidelines.
"Pasko ng Komiks" will take place on December 11 (Tuesday) from 8AM to 6PM at the Claro M. Recto Hall, Faculty Center, UP Diliman. Registration starts at 8AM.
Program Guide
Morning Session:
Moderators:
Professor Michael Chua (Department of History)
Ms. Sally Eugenio
8 AM - Registration
8:30 AM - Opening Remarks - Professor Virgilio Almario (National Artist for Literature; Dean, UP College of Arts and Letters)
9:00 AM - Patrick Flores, Gerry Alanguilan, Glady Gimena (Komiks in Philippine culture and history)
11:00 AM - Dennis Villegas, Orvy Jundis, Pablo Gomez (The study and collection of komiks)
12:00 PM - Lunch Break
Afternoon Session:
Moderators:
Professor Vim Nadera (Director, UP Institute of Creative Writing)
Ms. Sally Eugenio
1:00 PM - Ofelia Concepcion, Vivian Limpin, Elizabeth Chionglo, Joannah Tinio-Catinglo, Gilda Olvidado (Women in komiks)
3:00 PM - Carlo Vergara, Andrew Drilon, Andrew Villar, Carlo Pagulayan, Randy Valiente, Jonas Diego, Melvin Catinglo, Rey Tiempo, Victor Balanon, KC Cordero (Creating komiks)
5:00 PM - Emil Flores, Romulo Baquiran, Lawrence Mijares, Bobby Yonzon (Synthesis)
Closing Remarks - Bienvenido Lumbera (National Artist for Literature)
We're going to be there to sell our komiks. If we finish it, we might be able to release Break Out Comics #4 during the event. Hope to see all of you there.
Labels: comics, komiks, Read or Die